HOW TO PROPERLY EQUIP A BATHROOM: IDEAS FOR THOSE WHO HAVE STARTED RENOVATIONS OR DECIDED TO CHANGE THE INTERIOR
Would you like to furnish a new bathroom in a modern and traditional style? If so, then you should check out our tips. People will find over 1000 design ideas in our articles. Our experts are always up-to-date with the latest style novelty. This time we decided to tell you how to choose a mirror and a dressing table for arranging a spacious bathroom. Be sure to read, it will be useful and interesting!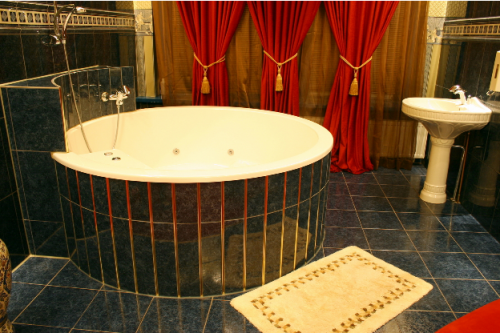 Best Bathroom Ideas & Styles Novelty
People spend an hour a day on average in the bathroom. So it is worthwhile to carefully consider the decision related to the style of the interior. For comfort and coziness, a correct layout is not enough. It is very important to pay attention to well-placed lighting and the toiletries. If you are new to design, consider the following nuances:
1.Features of the material.
It will not be easy to combine wood, metal, or glass in different finishes. So, you should decide on the style and choose the basics. For flooring, it is best to choose moisture-resistant materials. It can be modern tiles, Euro planks, linoleum, and any other durable, wear-resistant coating. Everyone who is involved in the repair of a bathroom should understand that the material that he uses must not only be resistant to moisture, but also safe. Always consider the loads on any glass surfaces. The same goes for mirrors, which we'll talk about later.
2 .Harmony of colors.
It is scientifically proven that decoration affects well-being, and in aesthetically designed spaces, life is simply better! The chosen colors, tile decors, and ceramics or accessories will accompany people a significant part of their life, the right style ideas will certainly cheer up in the morning. Use a dim light, preferably soft, diffuse, daylight. This will help to create the most comfortable atmosphere possible. Many people prefer spotlights or small chandeliers for the ceiling and various lamps for additional lighting near the mirror and washbasin.
3 .The chosen furniture should be in harmony.
Sometimes this is a real challenge since it is not so easy to find a manufacturer with a range of dressing tables, mirrors, and bedside tables. Socimobel, Bellezza, and Mia Italia are brands that offer versatile furniture. These companies have the perfect dressing table for everyone, no matter what style is a priority.
1. Fitting type.
This is especially important if you will be installing shelves and other attachments. The same goes for dressing tables. Most models are installed using a wall or free-standing bracket. The faience sink can be built into the dressing table. In this case, there will be enough space on the top of the table for toiletries. It will be convenient for kids to use the washbasin if you made a small bench with a step.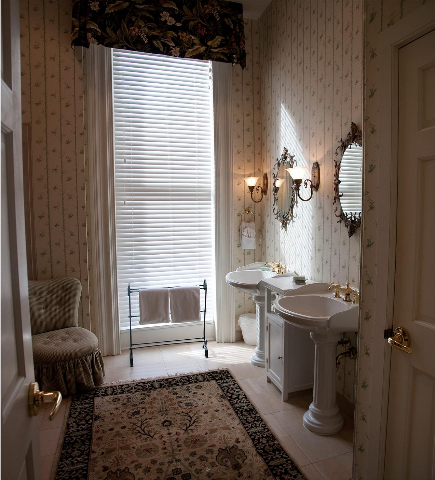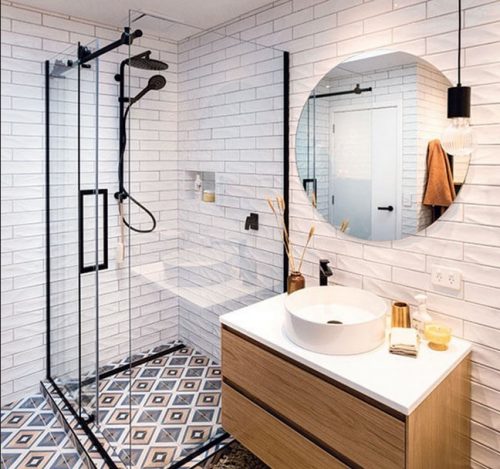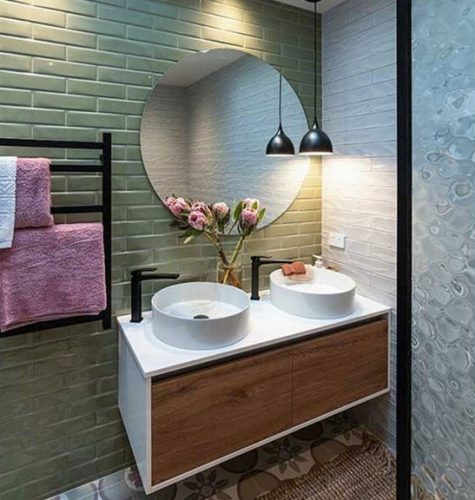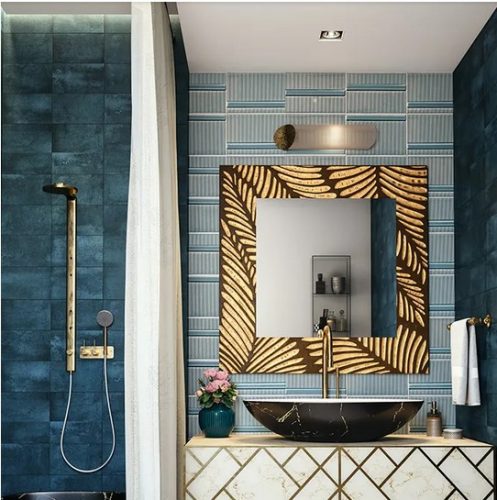 People who want to furnish their bathroom without any problems will find a collection of furniture decorated in white and dark colors. They can choose from single and double washbasins, illuminated mirrors. But what about other styles? Let's figure it out in more detail. We'll walk you through a few simple ideas and help you avoid disappointment.
Spanish Style — Key Concepts
Spanish style has been very popular in the last decade. In this arrangement, the line between extraordinary beauty and excess is very thin, so be careful not to overdo it with decoration and variety. What creates this peculiar atmosphere? Stylish accessories like farmhouse chandeliers, fancy makeup boxes, original crystal lamps, or designer freestanding mirrors.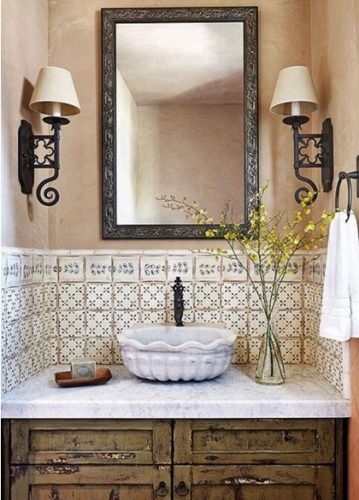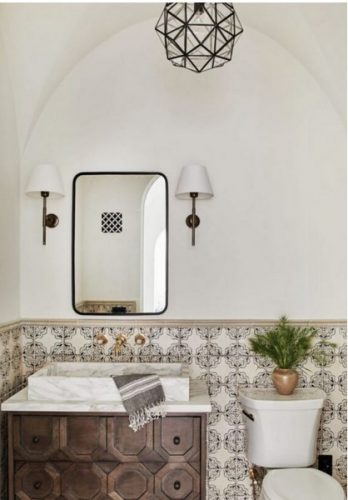 In most cases, the bathrooms are located in the center of the room. Sometimes the Spanish concept uses a standard layout with a linear arrangement of plumbing fixtures. This means that the bathtub or shower stall, washbasin, and washing machine must be located strictly in one line in order to minimize the distance from the drain point to the main riser as much as possible.
What About Wall and Floor Decoration?
For most design ideas, detail and harmony are important. Spanish tiles on the floor and brick-shaped tiles on the wall create a great bathroom duo. If the interior is small, installing a transparent shower enclosure will be the ideal solution. Such structures do not stop the light coming and optically enlarge the space. Here are some other creative design ideas:
A ladder can be used as a towel rack
Illuminated mirror perfectly complements the Spanish style
Ventilation is usually realized through ceiling exhaust vents
Laying ceramic tiles on the floor at an angle of 45° is a great idea
Gray in the Spanish bathroom is extremely versatile because, in addition to a unified atmosphere, it also associates timeless decorations. Such designer finishes can be combined with white, insulated with brown wood, varied with elegant black dressing tables made of metal. In most cases, for bricks, glass, mosaics, and pastels, there are many ideas, including replacing the classic white washbasin or bathtub with colorful furniture.
Scandinavian Ideas
Scandinavian style it's always about originality. Over the years, such ideas have been leading the list of the most popular interior design trends. Aesthetic, neat, and harmonious compositions captivate with the simplicity of the decor. For Scandinavian finishes, people can choose light colors, from white, pastel to natural brown. With such a finish, large-format tiles come in handy. People can also use a large natural wood frame mirror. Hardly anyone will deny the noble beauty of ash or oak. Though for the Scandinavian style, the uniformity of furniture is considered ideal, the right finish is also distinguished by the ornaments and decorations. Fittings and ceramics are based on simple lines and classic shapes.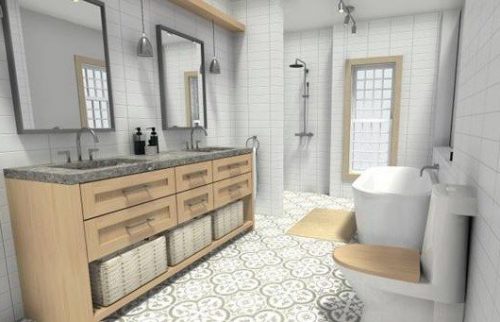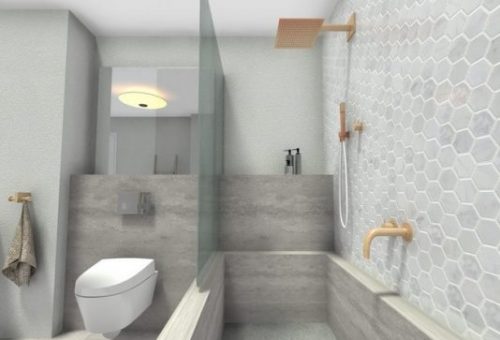 For the Scandinavian style, wood can be used to cover floors or walls. A great alternative is to make built-in furniture. The same goes for decorations: splines dividing the room into certain zones, or bathroom accessories such as hooks. For practical reasons, it is better to abandon real planks in favor of materials that imitate the incredible texture of oak, ash, or walnut. Bathroom mirrors are recommended to be built into the surface of the walls. Light and dark tiles, matched in the same tone, will suit this style in the best way.
Individuality
Any Scandinavian style gives people creative freedom. So, most interiors reflect the lifestyle of the residents. Modern design ideas are often composed of elements that highlight the hobbies and interests of family members, resulting in greater individualization of the space. Any lover of simplicity, a relaxing atmosphere, and harmony prefer Scandinavian inspiration or ascetic minimalism. Some people associate the space with French motives and charming cream tones that fill the space of the Provencal style. Although, it's mostly about women. If you started a renovation from scratch, then be sure to take into account all the big and small nuances — from the walls, ceiling, and floor to the choice of plumbing, towels, and mirrors.
Minimalism & Minors
Some modern styles in the bathroom are associated with the concept of minimalism and the golden rule of "less is more". Such interiors can be implemented by combining natural raw materials such as concrete, stone, or wood with stainless steel and glass. In a minimalist room, the main colors prevail: gray, black, or white. Plus, any modern bathroom is also associated with functionality and interesting plumbing options. People can choose stylish showers or monolithic freestanding bathtubs.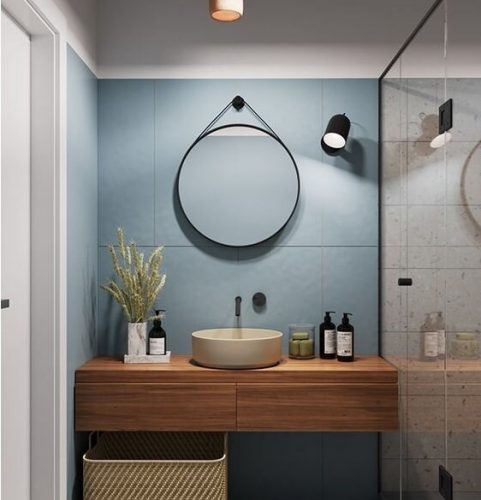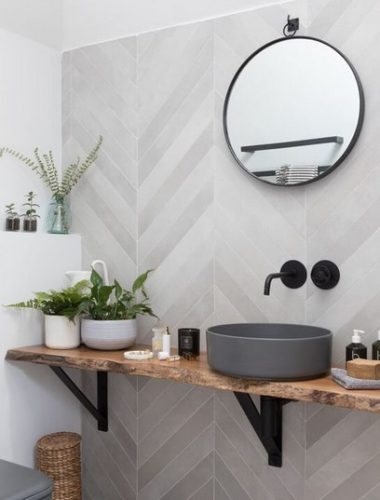 A well-lit bathroom is about the right chequered light and shade. Installing a large mirror is a good idea. It is better in such cases to divide the space into several zones. The spacious room can be equipped with several large mirrors, which will give the interior an elegant impression. People should consider that the frame must match the bathroom furniture. The impression of coherence and harmony is very important.
A small space, unlike spacious rooms, does not require a strong main light source. On the contrary, in such cases, it is better to use several spotlights, which will just provide a full fill of the entire volume with light. Any bathroom decorated in gray tones can become a continuation of the modern trend, especially if people focus on monochromatism. Such an arrangement is a typical loft atmosphere and will definitely not get bored for many years.
In Summary
When the renovation is in full swing in a residential building, people begin to think about which style of arrangement to choose. There are two ways in this situation: either work with an experienced designer who will advise and help anyone, or find the perfect concept without involving professionals. The key factors of arrangement in both the first and second options are habits and needs, which should be additionally compared with the conditions in the room.
The perception of a large bathroom directly depends on the number of additional accessories and items. Straight clear lines provide an enlarged space, but a large number of small accessories, shelves create a diametrically opposite impression. For a small bathroom, it is rational to install a multifunctional design with spacious compartments. This can be a cabinet or a closet shelf in which it is convenient to store hygiene items and bathroom accessories.